The Food & Agriculture Technology and Products Market size is projected to grow from USD 494.9 billion in 2018 to USD 729.5 billion by 2023, at a CAGR of 8.1% during the forecast period.
The major factors driving the food & agriculture technology and products market include an increase in demand and consumption of livestock-based products and seafood, the rise in consumer awareness about food safety, governments' support to adopt modern agricultural techniques, and demand for agricultural production due to the increasing population.

The Asia Pacific is projected to account for the largest market share in the food industry for the food & agriculture technology and products market during the forecast period. The large market share in this region is attributed to the increasing demand for processed food products as well as the rapid growth of the middle-class population.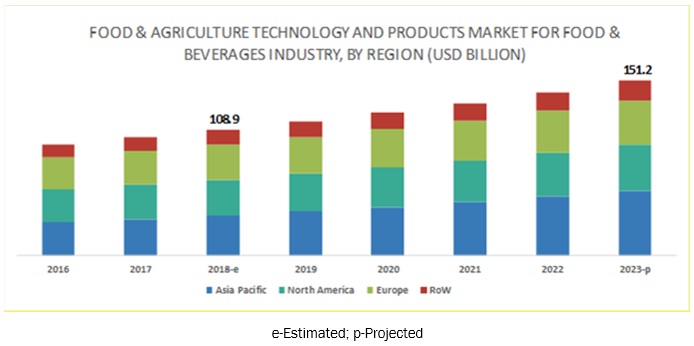 Moreover, a higher consumption rate of seafood and processed meat in the region, and higher consumption of proteins such as soy protein and its isolates in food such as functional dairy beverages, baked goods, snacks, and meat alternatives.
Europe is estimated to account for the largest share of the market in 2018. It is highly professional and technologically advanced for smart agriculture. This region has one of the strongest economies and widespread industries, which create high capital investment capabilities.
In Europe, large farm owners had started adopting smart agriculture technologies to increase their farm profits, while small farm owners were hesitant due to less investment capacity. Farmers are already using smart agriculture technologies for enhanced yield. These factors drive the segment in the European region.

Major vendors in the food & agriculture technology and products market include ADM (US), Evonik (Germany), DSM (Netherlands), United Technologies (US), Deere & Company (US), Daikin (Japan), Signify Holdings (Netherlands), SGS SA (Switzerland), Zoetis (UK), GEA (Germany), Pentair (UK), Intertek (UK), Genus (UK), Neogen (US), AKVA Group (Norway), Eurofins (Luxembourg), Canopy Growth Corporation (Canada), Americold Logistics (US), Groupe Grimaud (France), and MosaMeat (Netherlands).