Global Coiled Tubing Market Scenario:
The global coiled tubing market size is projected to reach USD 4.0 billion by 2025 from an estimated USD 3.0 billion in 2020, at a post COVID-19 CAGR of 5.8% during the forecast period. Stabilized oil prices have revitalized the exploration & production expenditures globally. This has led to increased investments in the enhancement of productivity of oil & gas wells. Furthermore, the global coiled tubing industry is driven by the upsurge in the oil & gas production by countries owing to rising demand from the Asia Pacific.
Download PDF Brochure: https://www.marketsandmarkets.com/pdfdownloadNew.asp?id=804
Geographies Covered:
Asia Pacific, North America, Europe, the Middle East, Africa, and South & Central America
North America is estimated to be the fastest-growing market for coiled tubing during the forecast period. The region has been segmented, by country, into the US and Canada. The increasing shale oil & gas production in the North America region is driving the coiled tubing market. According to the BP statistical report for June 2019, the US is the top producer of oil, producing 15.3 billion barrels of oil, in 2018. Moreover, the country has been experiencing huge investments from upstream operators to increase the production from the depleting fields in Texas, Permian Basin, and the Gulf of Mexico, along with new drilling activities in ultra-deepwater locations in the Gulf of Mexico, which is likely to drive the North American coiled tubing market.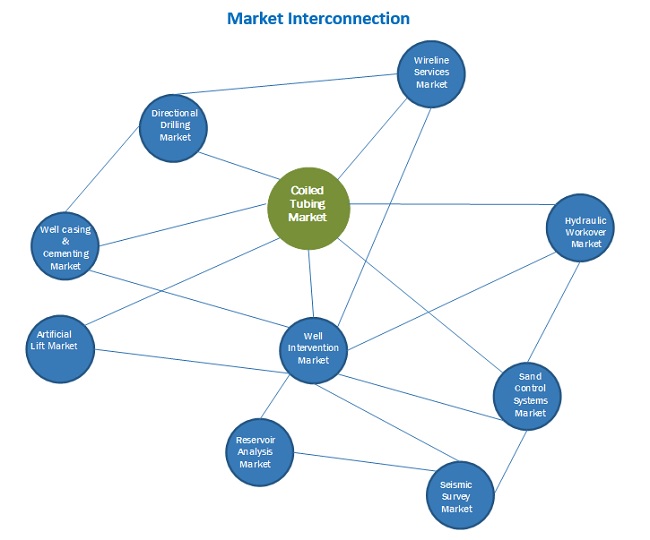 The coiled tubing market, by service, is segmented into well intervention service, drilling service, and others. Others include minor services such as fishing, fracturing, wireline logging, and inspection. Well Intervention services is the fastest growing market by region and are also observed as new revenue pockets. These services are further sub-segmented as well cleaning & pumping operations and well completions & mechanical operations. The challenges faced by oilfield operators during the well completion and production phase include the accumulation of hard scale, water shutoff, and formation damage. Coiled tubing helps in addressing these challenges through descaling operations, reperforation, and zonal isolation.
The coiled tubing market, by application, is categorized into onshore and offshore. The African offshore segment is expected to provide many opportunities for the coiled tubing market in the future, owing to huge drilling activities in offshore Angola and Mozambique gas production activities. The activities in offshore oilfield environments are comparatively more complex than onshore oil & gas fields thus, there is an increasing demand for digitization in offshore oil & gas fields. Furthermore, the investments to revive the mature onshore fields are expected to offer lucrative opportunities for the coiled tubing manufacturers during the forecast period.
Request Sample Pages: https://www.marketsandmarkets.com/requestsampleNew.asp?id=804
Companies covered:
Halliburton (US), Schlumberger (US), Baker Hughes Company (US), Weatherford (Switzerland), NexTier Oilfield Solutions (US), Superior Energy Services (US), Trican (Canada), Altus Intervention (Norway), National Energy Services Reunited (US), RPC Inc. (US), Basic Energy Services (US), Oceaneering International (US), STEP Energy Services (Canada), Calfrac Well Services (Canada), Key Energy Services (US), Nine Energy Services (US), Pioneer Energy Services (US), Legend Energy Services (US), and Oilserv (UAE)
Browse Related News:
Well Intervention Market Value Projected To Reach $9.3 billion by 2026 Covering Covid-19 Impact
Oilfield Services Market Demand and Expected to huge Growth 2017 to 2022