The composite roller market size is estimated to grow from USD 127 million in 2019 to USD 163 million by 2024, at a CAGR of 5.2% between 2019 and 2024. A roller comprises various components, including shell, bearing, shaft, labyrinth seal, circlip, and housing, to name a few. And, composite are that category of rollers where shell or tube of a roller is manufactured using composite materials. Composite roller is an excellent alternative to steel and other metal rollers. Composite rollers are extremely lightweight in nature and generates low noise & vibration along with better life-cycle that makes them highly suitable for use in paper & pulp, textile, mining, and other industries.
Download PDF Brochure @ https://www.marketsandmarkets.com/pdfdownloadNew.asp?id=112121358
The composite rollers market, by fiber type, is segmented into carbon, glass, and others. The market in the carbon fiber segment is projected to register the highest CAGR, in terms of value, during the forecast period. Also, carbon fiber is the largest segment of the composite rollers market, followed by the glass fiber. The growing demand for lightweight rollers in the packaging and printing application is responsible for the larger share of carbon fiber in the composite rollers market.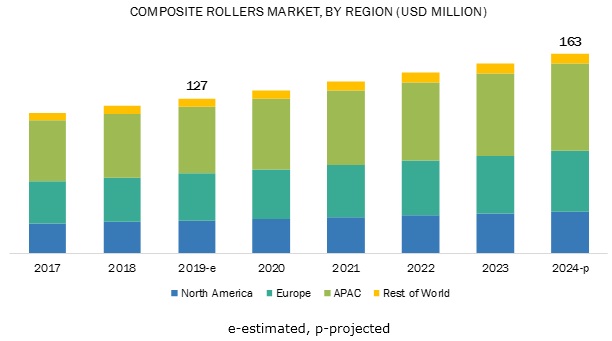 The composite rollers market, by end-use industry, is segmented into mining, pulp & paper, textile, film & foil processing, and others. Pulp & paper industry captures the largest share in the composite rollers market. While, the market in the mining industry is projected to grow at the fastest rate owing to the increasing demand for rollers that possess excellent chemical resistance, moisture resistance, and reduced total indicated runout.
By region, the composite rollers market is segmented into five regions, namely, North America, APAC, Europe, and Rest of the World (RoW). APAC is expected to record the highest growth rate in terms of value and volume during the forecast period. The growing consumption in the pulp & paper, textile, and mining industries in the key countries of APAC such as China, Australia, and Japan is expected to drive the demand for composite rollers in the next five years.
The leading ceramic armor manufacturers are Lorbrand Composites (South Africa), Double E Company LLC (US), Pronexos (Netherlands), NEPEAN Conveyors (Australia), Artur Küpper GmbH & Co. KG (Germany), Amlaga Composites, Inc. (US), Flexible Steel Lacing Company (US), Katsura Roller Manufacturing Corporation Limited (Japan), Conveyor Products & Solutions (Australia), and Beijing Haosheng Transmission Technology Co., Ltd (China), among others. These players have mainly adopted inorganic growth strategies such as acquisition and partnerships to expand their presence in the global market, which also helped them to offer innovative products and broaden their customer base.
Lorbrand Composites (South Africa) has a prominent presence in the global composite rollers market. The company has a strong brand image, and it caters to the growing demand for composite rollers, in major applications. The company has experts working in a wide range of fields, such as production technology, and technical design to maintain its comprehensive portfolio of rollers that have significant growth potential.
NEPEAN Conveyors (Australia) has secured a strong position in the APAC market. It is also establishing its presence in North America and Europe and is now focusing on South America. The company manufactures and develops high-performance composite rollers that are used extensively in the mining industry. It has a strong focus on R&D and has adopted an inorganic growth strategy by acquiring Sandvik's specialist conveyor systems business and international conveyor components businesses.
Get 10% FREE Customization on this Report @ https://www.marketsandmarkets.com/requestCustomizationNew.asp?id=112121358