The computational photography market was valued at USD 10.7 billion in 2019 and is expected to reach USD 29.0 billion by 2024, at a CAGR of 22.0% from 2019 to 2024. The major driving factors is the trend of sharing images and videos using advanced media sharing technologies is a major aspect of social networking on a global basis within the smartphone and multimedia tablet ecosystem.
Also, the enhancement in the image resolution of sensors along with the technological advancements in camera modules, components, and design is driving the computational photography industry. The growing demand for superior vision technology in the computer vision industry is expected to lay new growth opportunity for computational cameras during the forecast period.
Download PDF Brochure:
https://www.marketsandmarkets.com/pdfdownloadNew.asp?id=232323308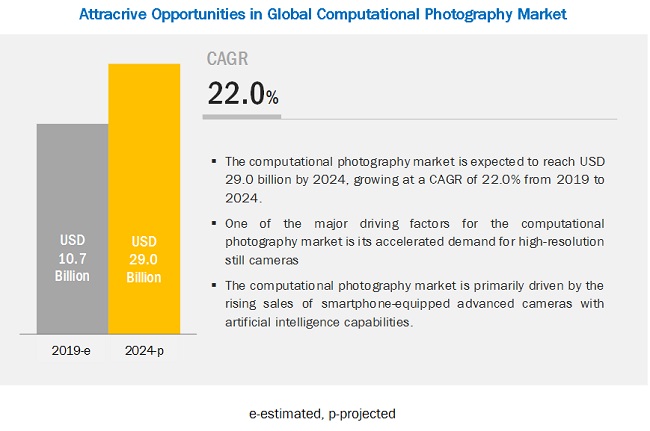 A few of the emerging trends in the computational camera market include increasing resolution and complexity of image sensors for better image quality, augmented application of software-based imaging techniques in machine vision, growth in 4K pixel, and ultra HD technologies. Moreover, the growing quest for superior camera technologies among leading smartphone vendors is expected to propel the demand for computational photography technology in the smartphone segment during the forecast period.
Based on offering, the market for software is expected to grow at the highest CAGR. This high growth is attributed to the use of high-end algorithms to achieve advanced photography. Software is an essential part of computational cameras. It interfaces hardware with advanced computational capabilities. These software systems enhance and extend the capabilities of devices based on computational photography by compressing, expanding, and mosaicking the image.
Based on type, other cameras are expected to grow at the fastest rate. Other computational cameras include cameras with 4, 8, and more lenses. Nikon has unveiled its 4-lens camera with a patent (No. 2016-114615) filed in June 2016. Other camera manufacturers, such as Sony (Japan) and Huawei (China), are expected to enter the computational photography market by launching cameras with variable aperture sizes and adjustable zooming features based on the size of the image sensor; as a result, new designs are created for multi-aperture cameras useful in computational photography.
Based on product, machine vision cameras are expected to grow at a significant rate between 2019 and 2024. There is a great importance of high-quality images to detect defects in final products. Machine vision can use computational photography when higher quality imaging with less maintenance is desired. Computational photography eliminates the need to adjust optics and lighting to get a perfect image. It reduces the need for post-processing of images.
Based on application, mixed reality is expected to grow at the highest rate. Mixed reality is the result of blending the physical world with the digital world. Mixed reality is the next evolution in the interaction between humans, computers, and the environment and unlocks various possibilities that were initially limited to our imagination. Computational photography is expected to provide enhanced user experience with the help of advanced imaging combined with virtual reality.
Request Sample Pages of Report:
https://www.marketsandmarkets.com/requestsampleNew.asp?id=232323308
APAC computational photography market is expected to grow at the highest CAGR during the forecast period. This high growth is attributed to the increasing number of Chinese vendors such as Huawei (China), Xiaomi (China), and others. These companies are coming up with advanced AI-based cameras for advanced imaging purposes with powerful chipsets and processors.
In the coming years, the robotic vision in industries is expected to use computational cameras owing to the superior vision technology. In the coming years, computational photography software is expected to use artificial intelligence, which will be very useful in the AI-based machine vision technology. Movidius (US) (acquired by Intel), launched the new Myriad 2 vision processing unit, dedicated to imaging, The Myriad 2 has been specially made to be power-efficient, and it will be manufactured using a 28-nanometer process, using 12 "vision-specific vector processors.