The controlled-release fertilizers market is projected to grow at a CAGR of 6.29% from USD 1.56 Billion in 2017, to reach USD 2.12 Billion by 2022. Due to the increasing demand for high efficiency fertilizers to minimize nutrient losses, controlled-release fertilizers have been gaining preference for their beneficial characteristics such as patterned nutrient release and their effect on the agricultural yield.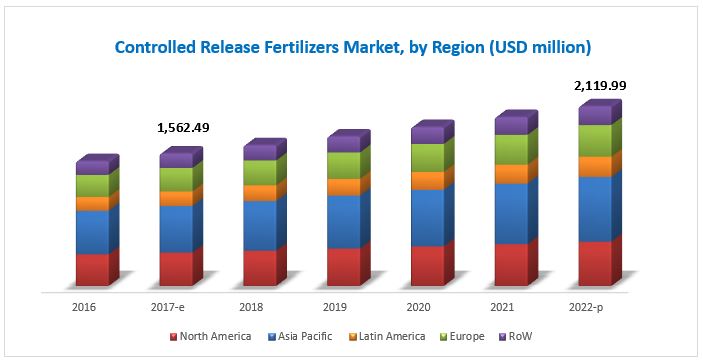 Download PDF Brochure:
https://www.marketsandmarkets.com/pdfdownloadNew.asp?id=136099624
Limited adoption of controlled-release technology
Controlled-release fertilizers have been in use since a long time in countries such as the US and in Western European countries. However, the technology has been relatively nascent for developing countries. Limited awareness on the advantages of CRF with respect to application cost and environmental concerns has been hampering the growth of this market to a large extent. The main reason for the low rate of adoption of this technology is the established conventional fertilizers market, since the demand for conventional fertilizers among farmers has been strongly fueled by their belief in high crop returns.
Though there is a high impact on the long-term cost associated with the application of fertilizers, the initial cost to be invested by the farmers is quite high which restrains the farmers to adopt this technology. Also, beliefs among the farmers from developing countries on the advantages of using large amounts of fertilizers multiple times would increase crop yield and quality, is not the same with controlled-release fertilizers, which further leads to the rising unwillingness in adopting the technology. Moreover, in developing countries, large amounts of subsidies are provided by the government over conventional fertilizers. For instance, in India, there are a number of subsidies extended to the farmers for NPK fertilizers such as Nutrient-Based Subsidy (NBS), Essential Commodities Act 1955 (ECA), and Concession Scheme for P&K Fertilizers; however, not much subsidy is granted for smart fertilizers, which further impacts the adoption of this technology among farmers.
On the other hand, in countries such as India and China, where agriculture is the major source of income for more than half of the country's population, farmers are not willing to take risks against their crop production. According to the Institute of Management Development and Research (IMDR), India, small retailers and shopkeepers are unwilling to stock and sell smart fertilizers in the country as they feel their quality is unreliable.
Significant competition to capitalize the market potential among international manufacturers in the Asia Pacific and South American regions
Rise in export quality requirements for agricultural products and increasing adoption of sustainable agriculture practices in countries such as China, India, Brazil, and Argentina are expected to drive the demand for controlled-release fertilizers among the farmers in the Asia Pacific and South American regions during the forecast period. This would increase the inflow of various international manufacturers to set up their business units and distribution networks, thereby leading to a strong market competition.
This report includes a study of marketing and development strategies, along with the product portfolio of leading companies. These companies include Agrium (Canada), Yara (Norway), ICL (Israel), Kingenta (China), and Helena Chemical (US), which are some of the well-established and financially stable players that have been operating in the industry for several years. Other players include ScottsMiracle-Gro (US), SQM (Chile), Haifa Chemicals (Israel), Koch Industries (US), AGLUKON (Germany), COMPO EXPERT (Germany), and JCAM AGRI (Japan).
Request For Customization:
https://www.marketsandmarkets.com/requestCustomizationNew.asp?id=136099624
Target Audience:
Fertilizer manufacturers, formulators, and blenders
Fertilizer traders, suppliers, distributors, importers, and exporters
Fertilizer coating technology providers and polymer manufacturers
Polymer coating technology-focused market entrants
Agricultural cooperative societies
Commercial research & development (R&D) organizations and financial institutions
Fertilizer associations and industry bodies such as the International Fertilizer Association (IFA) and the Association of American Plant Food Control Officials (AAPFCO)
Government agricultural departments and regulatory bodies such as the US Environmental Protection Agency (EPA), the US Department of Agriculture (USDA) – Animal and Plant Health Inspection Service (APHIS), and the Canadian Food Inspection Agency (CFIA)