The Bottled Water Processing Market is estimated to account for about USD 211.61 billion in 2018 and is projected to reach a value of about USD 315.96 billion by 2023, at a CAGR of 8.3%.
The increase in demand for packaged drinking water in the Asia Pacific region has played a considerable role in the bottled water processing market. As a result of the growing demand for potable water, bottled water processing equipment manufacturers are opting for membrane filtration technologies, to eliminate unwanted elements from water and to enhance the quality and shelf-life of drinking bottled water. The water treatment equipment manufacturers are developing innovative technological solutions and systems to convert high salinity waters such as seawater and brackish waters to potable drinking water, as the demand for drinking water is increasing in water-short areas.  

Asia Pacific is estimated to account for the largest market share in the bottled water processing market in 2018. The region is projected to offer huge growth potential to the bottled water processing market. The region is witnessing the highest growth due to the rapid economic growth in countries such as India and China. It is attracting investors for setting up production facilities due to the ease of availability of raw materials, skilled labor, land, and equipment at lower costs.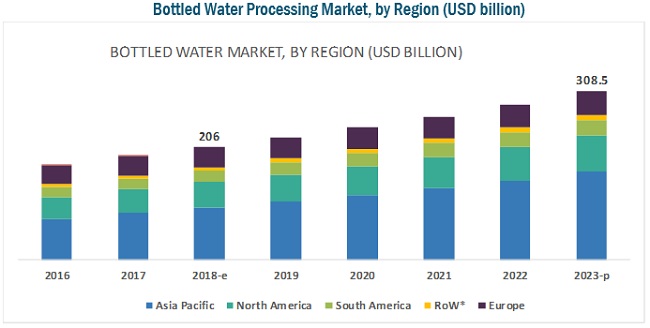 The sales of bottled water equipment are mainly concentrated in this region, with key players such as DowDuPont (US) and General Electric (US) offering their products in the Asia Pacific market. Asia Pacific is also a flourishing market for domestic manufacturers such as Aqua Pro systems (India) and Ion Exchange Ltd (India).
Leading companies are DowDupont (US), GEA (Germany), Alfa Laval (Sweden), the 3M Company (US), Lenntech B.V. (South Holland), Suez (US), Pall Corporation (US); and prominent players in the global bottled water market including Nestlé (Switzerland), PepsiCo (US), Coca-Cola (US), Danone (France), and Tata Global Beverages (India).