The global agricultural micronutrients market is estimated to be valued at USD 3.6 billion in 2020 and is projected to reach a value of USD 5.4 billion by 2025, growing at a CAGR of 8.7% during the forecast period. Factors such as the rise in micronutrient deficiencies in the soil and growing awareness about food security are projected to drive the growth of the agricultural micronutrients market.
The dominance of the fruits & vegetables segment is attributed to the increasing consumption of micronutrients for these crops, particularly in the Asian and North American countries. The high export potential of fruits & vegetables has led to an increase in production levels. This has propelled the requirement of micronutrient products for efficient usage of agricultural inputs in order to meet export quality standards. The leading crop segments are ranked below by their application.
The increasing demand for various crops in the Asia Pacific regions is driving the growth of the agricultural micronutrients market. The increasing agricultural practices and requirement of high-quality agricultural produce are factors that drive the micronutrient fertilizer market growth in the Asia Pacific region.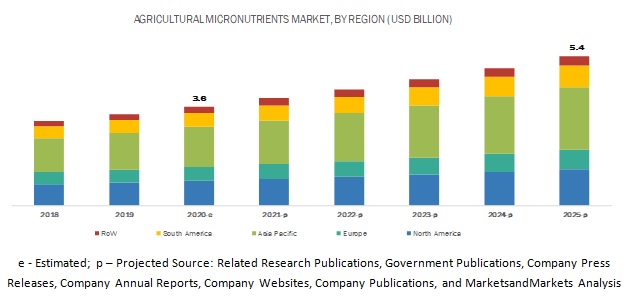 According to the World Bank, about 56.2% and 60.4% of the entire land area were accounted for as agricultural land in China and India, respectively, in 2015. Major crops produced in Asia include rice, sugar beet, fruits & vegetables, cereals, and grains; the region consumes 90% of the global rice produced. There is a huge demand for agricultural micronutrients market in Asia Pacific due to the direct use of micronutrients to treat plant deficiencies and are often sprayed in combination or as additives to NPK products.

Key players in this market include BASF SE (Germany), AkzoNobel (Netherlands), Nutrien, Ltd.(Canada), Yara International ASA (Norway), The Mosaic Company (US), Compass minerals international (US), and Valagro (Italy). These major players in this market are focusing on increasing their presence through expansions & investments, mergers & acquisitions, partnerships, joint ventures, and agreements. They show a strong presence in North America, Asia Pacific, and Europe. And also have manufacturing facilities, along with strong distribution networks across these regions.