The global Batter & breader premixes market size is estimated to be valued USD 2.5 billion in 2021 and is projected to reach a value of USD 3.4 billion by 2026, growing at a CAGR of 6.4% during the forecast period. The growth of this market is attributed to an increasing need for food security of the growing population.

The rise in the standards of living, rising working population, and the growing disposable income due to the growing economy, especially in emerging countries such as India, Brazil, and China, have led to an increase in demand for convenience and processed foods.
In terms of processed foods, emerging economies have been growing at a higher rate than developed countries in the last few years, owing to the rapid growth of the processed food industry in these countries.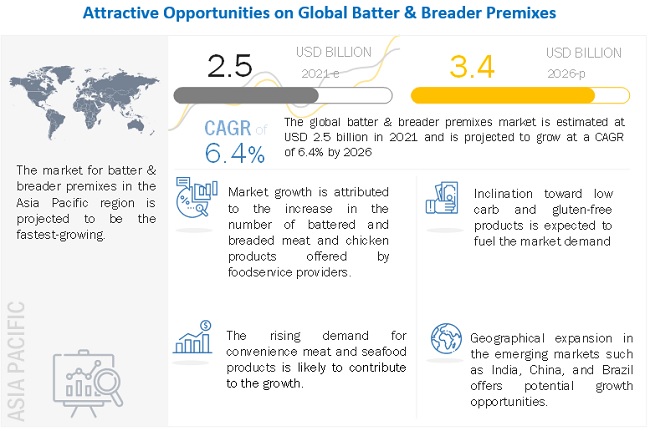 There has been a gradual shift in consumer choice from traditional methods of making food at home to buying packaged meals. The changing lifestyles have slowly shifted the consumer focus toward processed meat products; these product categories consist of frozen meat & seafood products and sausages, among others.
Significant changes in the food processing industry over the last two decades have led to a high demand for packaged & processed meat products.  This situation has driven the growth of the batter & breader premixes market.
Key players in this market include Kerry Group (Ireland), Bunge Limited (US), Newly Weds Foods, Inc. (US), McCormick & Company (US), Showa Sangyo Co., Ltd. (Japan), Lily River Foods (US). Mergers, acquisitions, and new product launches were  the key strategies adopted by the leading players in the Batter & breader premixes with a view to improve their product line and presence in the market.