Pharmacy Automation Market by Product (Medication Dispensing System (Robot, Carousel), Packaging & Labeling System (Unit Dose, Multi Dose), Tabletop Counter, Storage System), End User (Inpatient, Outpatient, Retail Pharmacy) – Global Forecast to 2022
The pharmacy automation market is estimated to grow at a CAGR of 8.2% from 2017 to 2022 to reach USD 5.38 Billion by 2022. Market growth can be attributed to the growing need to minimize medication errors, rapid decentralization of pharmacies, rising geriatric population and rising labor cost. On the other hand, reluctance among the healthcare organizations to adopt pharmacy automation systems is expected to restrain the overall market growth to a certain extent during the forecast period.
Automated medication dispensing systems accounted for the largest share of the pharmacy automation market in 2016. The rising demand for prevention of medication errors, the need for accurate and timely dispensing of a treatment regimen, and the need for avoiding dispensing errors associated with the type and dosage of commonly prescribed medication are the major drivers of automated medication dispensing systems.
In 2016, North America commanded largest share of the pharmacy automation market. The large share of the North American pharmacy automation market can largely be attributed to the increasing number of drug prescriptions at pharmacies resulting from growth in the aging population.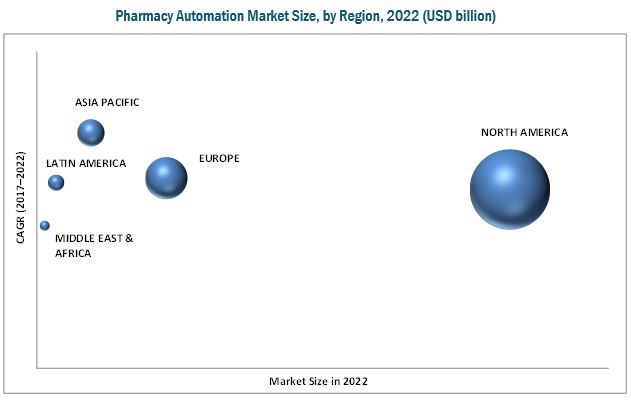 Some of the prominent players in the global pharmacy automation market include Becton Dickinson and Company (U.S.), Omnicell, Inc. (U.S.), Cerner Corporation (U.S.), Capsa Healthcare (U.S.), Parata Systems LLC (U.S), Baxter International, Inc. (U.S.), ScriptPro LLC (U.S.), KUKA AG (Germany), TCGRx Pharmacy Workflow Solutions (U.S.), RxSafe, LLC (U.S.), ARxIUM Inc. (U.S.) and Talyst Systems, LLC (U.S.).
Get more deatils: http://bit.ly/2psQbOb
The leading position of McKesson can mainly be attributed to its well-established position in the pharmaceutical distribution business in the U.S. and Canada as well as its strong portfolio of pharmacy automation systems. In the last few years, the company has launched several products such as EnterpriseRx (a next-generation pharmacy software system), Your Pharmacy Online (a mobile application), ExpressRx Track (a pharmacy automation solution), ScanAbility (Barcode Medication Administration Analytics Tool), and McKesson Ambulatory Pharmacy Solutions, to name a few. These products have helped to reinforce the company's product portfolio, thereby giving it a competitive advantage over other players in the market.
Contact:
Mr. Shelly Singh
MarketsandMarkets™ INC.
630 Dundee Road
Suite 430
Northbrook, IL 60062
USA: +1-888-600-6441
Email: newsletter@marketsandmarkets.com