Global Marine Engines Market Overview:
The global marine engines market size is projected to grow from USD 11.8 billion in 2020 to USD 13.7 billion by 2025; it is expected to grow at a CAGR of 3.1% from 2020 to 2025. The key factors driving the growth of the marine engine market include growth in international marine freight transport, growth in maritime tourism, and increasing adoption of smart engines for situational awareness and safety.
Download PDF Brochure: https://www.marketsandmarkets.com/pdfdownloadNew.asp?id=261640121
This study involved four major activities in estimating the current size of the marine engines market. Exhaustive secondary research was done to collect information on the market, peer market, and parent market. The next step was to validate these findings, assumptions, and market sizing with industry experts across the value chain through primary research. Both top-down and bottom-up approaches were used to estimate the total market size. After that, the market breakdown and data triangulation were done to estimate the market size of the segments and sub-segments.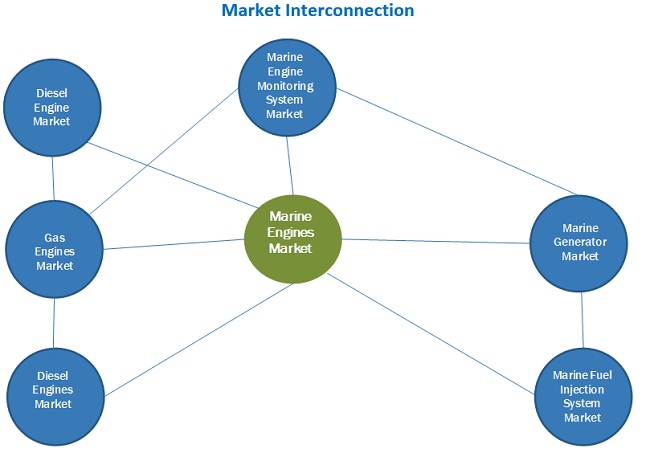 Key Market Players:
Hyundai Heavy Industries (South Korea), Caterpillar (US),  MAN SE (Germany), Mitsubishi Heavy Industriews (Japan), Volvo Penta (Sweden), Rolls-Royce (UK), Cummins (US), Wartsila (Finland), GE Transportation (US), Deutz AG (Germany), and others
The heavy fuel oil segment is expected to lead the marine engines market from 2020 to 2025. Heavy fuel oil is the commonly used fuel for marine engines across the globe. Inspite of the stringent emission controls and revisions in IMO standards, the demand for heavy fuel oil marine engines is expected to be the largest among all segments.
The propulsion engine segment, by engine, in marine engines market is estimated to grow at the fastest rate during the forecast period. Propulsion engines are the main engines of ships, providing thrust and power to move and sail the oceans. Marine propulsion engines are a very important asset of ships as they are the prime mover of the ship. Thus, the demand for propulsion engines across various engine types is expected to increase with the increased demand for marine engines.
Asia Pacific is estimated to be the largest market for marine engines during the forecast period. Asia Pacific is global leader in shipbuilding industry both in terms of exports and imports. It is considered to be a lucrative region for maritime trade. Countries such as China, Japan, and South Korea are considered as the main manufacturing hubs for marine engines. Over the past few years, this region has witnessed rapid economic development as well as the growth of the manufacturing and energy sectors, thereby resulting in an increase in the maritime trade. The rise in seaborne trade has subsequently led to an increase in demand for ships that are used to transport manufactured goods to various regions worldwide.
Ask Sample Pages: https://www.marketsandmarkets.com/requestsampleNew.asp?id=261640121
Recent Developments
In January 2019, Hyundai Heavy Industries formally took over Daewoo Shipbuilding & Marine Engineering (DSME) with a 55.7% stake in the company, which would be worth USD 1.08 billion. This acquisition is expected to further strengthen the market position of Hyundai Heavy Industries.
In February 2019, MAN Diesel & Turbo SE won the contract to supply the engines for a new harbor tug in Spain, which would be operated by P&O Reyser in the Port of Barcelona, which is expected to enter service from mid-2020.
In February 2019, MAN Diesel & Turbo has won the order to supply 18 TIER II-compliant main engines for lane-metre RoRo vessels intended for operation in the Mediterranean Sea.
In January 2019, Wärtsilä received an order to supply Castle Hill, Fraserburgh with a ship design, a Wärtsilä 32 main engine, and all equipment for the ship.