According to the latest report "Marine VFD Market by Type (AC Drive, DC Drive), Voltage (Low Voltage, Medium Voltage), Application (Pump, Fan, Compressor, Propeller (With Shaft Generator, Without Shaft Generator), Crane & Hoist), and Region – Global Forecast to 2026 " size will grow to USD 1,075 million by 2026 (forecast year) from USD 804 million in 2021 (estimated year), at a CAGR of 6.0% during the forecast period. A marine VFD is a motor controller electronic device. It drives an electric motor by varying the frequency and voltage supplied to the motor according to the demand. It is also referred to as variable speed drive, adjustable speed drive, adjustable frequency drive, AC drive, Microdrive, and inverter. Marine VFD has been categorized into by type, by voltage, and by application. They can be installed in various systems on ships which have motor like cranes, compressor, fan, pumps, etc. Marine VFD is playing a crucial role to achieve more efficiency from systems and reducing fuel consumption in ships.
Download PDF Brochure – https://www.marketsandmarkets.com/pdfdownloadNew.asp?id=85395523
The pump segment is expected to dominate the marine VFD market, by application, during the forecast period.
The pump segment accounted for the largest share of the Marine VFD market, by application, in 2020. The pump is the component which is extensively used for various purposes onboard a ship and is critical for proper functioning of any ship. Thus, the use of VFD to control the functioning the pumps can save a lot of energy. These factors are likely to increase the demand for VFD used to control pumps.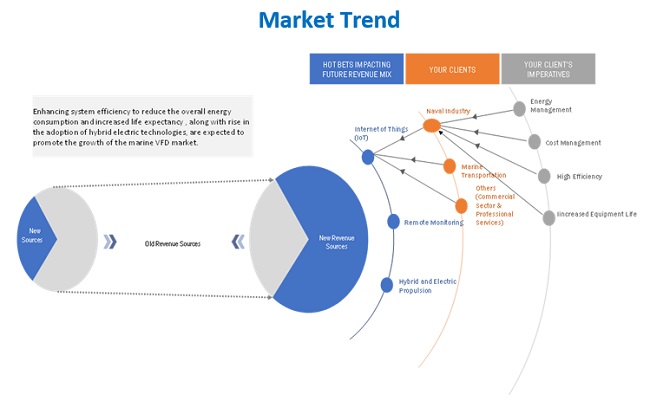 The low voltage is expected to dominate the marine VFD market, by voltage, during the forecast period.
The low voltage segment accounted for a larger share, owing to the increased use of low-voltage motors in the marine industry across applications such as cranes, pumps, fans, and hoists. The increasing use of variable drives to improve the efficiency of various small components across a system equipped with motors to improve the efficiency of such systems has boosted the market for low-voltage drives.
The AC drive is expected to dominate the marine VFD market, by type, during the forecast period.
AC drives are more widely used VFDs. As most of the equipment used onboard a ship operates on AC input, the AC drive segment is projected to account for a larger market share. The demand for AC drives is also driven by the increasing demand for energy-efficient solutions. An AC drive is used to control the speed of an electric motor by changing the frequency and voltage of electric supply to the motor. A VFD controls the speed of the AC motor by changing the frequency supplied to the motor.
Asia Pacific is expected to lead the marine VFD market
Asia Pacific is expected to show a robust growth during the forecast period. The Asia Pacific region includes China, Japan, South Korea, India, Australia, and Rest of Asia Pacific. This region has shown strong demand for marine VFD owing to rapid growth of shipbuilding industry. With the shift towards decarbonization, there has been a strong demand for more energy efficient engines with less emissions. Governments in this region are increasingly opening gates for development and growth of ship building industry. Technological advancements and less energy consumption would further propel marine VFD deployment and open up opportunities in the emerging markets in APAC. Various countries are adopting new hybrid and electric systems in ships in order to save energy as well as to meet their goal of rection in carbon emission. Moreover, favorable supportive schemes, huge investments in ship building and port development would further drive the market for marine VFD. The market in China is expected to grow mainly because of government initiatives to cut down carbon emissions as well as to become leader in ship building.
Request Sample Pages – https://www.marketsandmarkets.com/requestsampleNew.asp?id=85395523
Key Market Players:
The key players include General Electric (US), Danfoss (Denmark), Siemens (Germany), ABB (Switzerland), Rockwell Automation (US). The leading players are adopting various strategies to increase their share in the marine VFD market.
Recent Developments
In April 2021, ABB secured a contract from the Spanish shipbuilder Astilleros Gondán to supply an all-electric power solution for a fleet of fast 40 m urban passenger ferries operating on Lisbon's Tagus River.
In December 2020, Cochin Shipyard selected Siemens to implement advanced marine solutions for India's first fleet of 23 boats equipped with electric propulsion and battery integrated technology.
In August 2020, the first of six Arctic and Offshore Patrol Ships (AOPS) – HMCS Harry DeWolf – were delivered to the Royal Canadian Navy (RCN). GE's Power Conversion business was the designer and provider of the high-voltage electric power system (HV) and electric propulsion drivetrains, with specialist capability for operations in multi-year ice, for the Arctic Offshore Patrol Ship (AOPS) Harry DeWolf class vessels.
In January 2019, Danfoss Editron partnered with Kongsberg Evotec, a part of the Kongsberg Maritime International Technology Group, to develop a fully electric-powered marine winch. Marine winches are components on vessels used in offshore industries such as fishing, research, and seismic.