The report "Modified Starch Market by Raw Material (Corn, Cassava, Potato, and Wheat), Application [F&B (Bakery & Confectionery, Beverages, and Processed Foods), Animal Feed, and Industrial], Function, and Region-Global Forecast to 2023″, The market for modified starch is projected to reach a value of USD 12.67 Billion by 2023, at a CAGR of 4.1% from 2018. The market is driven by the rise in demand for functional food & beverage products, increase in the use of modified starch in the food industry, and growth in awareness about the health benefits of modified starch. The rising popularity of maltodextrin is also driving the modified starches market. On the other hand, greater raw material costs and high R&D costs are the key factors hindering the growth of this market. This indicates that there is immense scope for the growth of the modified starch market globally.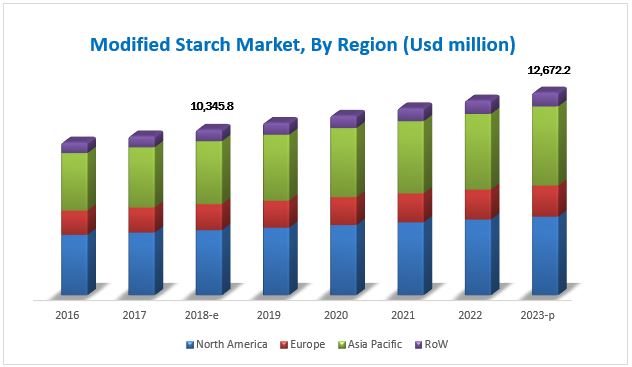 Growing demand for adhesives in a range of industrial applications
Modified starch specifically provides maximum adhesive performance and superior strength at a low cost for a wide range of applications. It can be used in a variety of viscosities to meet the needs of diverse applications and end-use requirements. Modified starch is one of the major raw materials used in the paper industry. It is used as a starch paste adhesive in laminating paper-to-paper and poly-to-paper. A single sheet of paper contains as high as 8% of modified or unmodified starch in it. The industry uses modified starch in both, dry strength and wet end sizing. It acts as a water retention agent, which also binds the pulp and improves the surface of the paper.
Increasing land pollution and diseases in animals caused due to ingestion of plastic bags have encouraged the use of paper bags. With the increasing usage of paper bags, the paper industry is expected to experience growth due to the increase in the frequency of recyclability of paper. This forms a major driver for the modified starch market.
The demand for modified starch is growing in industrial applications as they offer cost benefits and enhanced functionalities in comparison with native starches. Thus, there is an increasing need for modified starch as a renewable raw material in the production of packaging materials and biodegradable plastics.
Download PDF Brochure:
https://www.marketsandmarkets.com/pdfdownloadNew.asp?id=511
The food & beverages segment accounted for the largest share in the modified starch market in 2017
Modified starches have been developed for a significant period of time, and their applications in the food & beverages industry are increasingly gaining importance. Modified starches are considered as food additives that are prepared by treating starch or their granules, with chemicals or enzymes, causing the starch to be partially degraded.
The thickener segment accounted for the largest share in the modified starch market in 2017
As the texture is of prime importance for consumers' acceptability of food products, starch is extensively used as a thickener or as a gelling agent in food products. Modified starch is perfectly suitable for a wide variety of applications, food or non-food, wherever its properties remain unique. However, it appeared necessary, in some cases, to increase the performance of starch and to respond to the needs of customers, to offer other better-quality functionalities or performances such as more stable thickness with the variations of temperature, hot fluidity, and better stability & solubility with cold water.
North America dominated the modified starch market in 2017
The North American market for modified starch is driven by the US market, especially by cornstarch. Being at the center of the bioethanol policy, which has siphoned much of the available corn for ethanol production, the US has influenced the global supply chain of corn for starch extraction and the resultant price trends. The market in Europe is expected to grow at a moderate rate in the near future, owing to the stringent regulations for modified starch and increasing demand for convenience food products. Developing countries such as China, India, Brazil, and Argentina are showing a significant increase in the demand for modified starch.
This report includes a study of marketing and development strategies, along with the product portfolios of the leading companies. It includes profiles of leading companies such as Archer Daniels Midland (US), Cargill (US), Ingredion Incorporated (US), Tate & Lyle (UK), Roquette Frères (France), Avebe U. A. (Netherlands), Grain Processing Corporation (US), Emsland-Stärke GmbH (Germany), AGRANA Beteiligungs-AG (Austria), SMS Corporation Co. Ltd. (Thailand), Global Bio-Chem Technology Group Company Limited (Hong Kong), SPAC Starch Products Pvt. Ltd. (India), and Qingdao CBH Co., Ltd. Company (China).
To speak to our analyst for a discussion on the above findings, click Speak to Analyst