The plant asset management (PAM) market size is estimated to grow from USD 5.5 billion in 2019 to USD 9.4 billion by 2024, at a CAGR of 11.3%. Plant asset management (PAM) includes asset identification, monitoring, refurbishing, and replacement.
The plant asset management plan includes the utilization of different measurement technologies to protect and predict the health of plant assets. It provides valuable information about the condition of assets over the entire life cycle. This information is used for optimizing plant operations and maintenance, increasing production capacity, and implementing predictive maintenance and operational strategies. Further, surging adoption of lean manufacturing practices by several organizations, increasing focus on providing cloud-based PAM solutions to satisfy customer demands, escalating demand for asset management software that can identify potential failures to avoid futuristic loss, and growing need for real-time data analytics are the major factors driving the market growth.
Download Free PDF Brochure:
https://www.marketsandmarkets.com/pdfdownloadNew.asp?id=8606975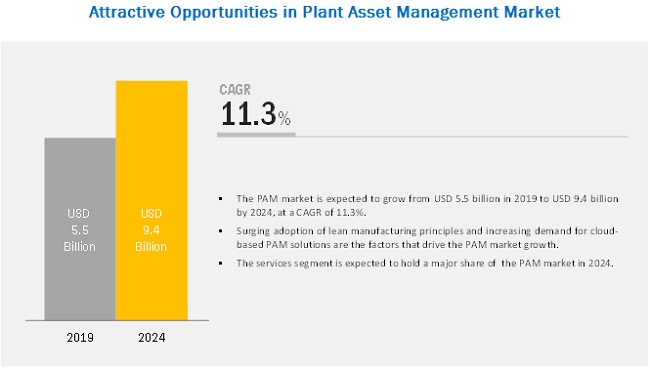 "Services segment likely to continue to command plant asset management market during forecast period
Increasing demand for industry-specific services for maintaining the shelf life of the asset and increasing efficiency of the production process is the key factor expected to drive the growth of the services market. The deployment of PAM software is a costly process and a one-time activity, whereas PAM services that include maintenance needs, software upgrades, and personnel training are demanded by end-user industries continuously. Hence, PAM services have a significant contribution to generating more revenue than PAM software solutions.
"Cloud-based (online) deployment to witness highest CAGR in plant asset management market during forecast period"
The adoption of cloud-based (online) PAM software solutions is the most suitable option for small and medium-sized enterprises due to its low cost. Quick installation and easy access to cloud save time and help end-user industries to make better decisions to improve efficiency, as well as focus on other important business parameters.
"Plant asset management market for automation assets to grow at highest CAGR during forecast period"
Different types of automation systems, such as programmable logic controllers (PLCs) and distributed control systems (DCSs), are increasingly being deployed in manufacturing plants of process industries to enhance the production capacity, thereby fueling the demand for PAM solutions for effective handling of automation assets.
Request Free Sample Pages:
https://www.marketsandmarkets.com/requestsampleNew.asp?id=8606975
"APAC is expected to be fastest-growing market for PAM during 2019–2024"
The adoption of PAM solutions is high in APAC due to the growing manufacturing sector in the region. Most of the key manufacturers from different industries have shifted their manufacturing plants in APAC due to the low labor cost and availability of a skilled workforce. These manufacturing units are using asset management solutions for the improvement in the overall manufacturing processes, which is expected to drive the growth of the PAM market in the region.