The Global Polypropylene Catalyst Market is projected to grow from an estimated USD 1.2 billion in 2019 to USD 1.9 billion by 2027. This growth can be attributed to the increasing demand for the PP catalyst owing to the growth in the production of PP and improvements in PP catalyst technology, which are expected to drive the market.
Download PDF Brochure @
https://www.marketsandmarkets.com/pdfdownloadNew.asp?id=127854064
Increasing production of polypropylene
The market for PP Catalyst is growing rapidly because of the increasing consumption of PP in the emerging markets of APAC, such as China, India, and South Korea, as well as in countries such as Belgium, Canada, and Saudi Arabia. Construction of new manufacturing facilities or de-bottlenecking of existing plants is expected to be carried out in these countries that will play a major role in propelling the demand for PP Catalyst. Two new PP plants are expected to start in Canada during the forecast period, making Canada the second-largest PP manufacturer in North America.
How availability of alternative raw materials for PP production is a key opportunity?
Crude oil is the primary raw material source for PP The recent advancements in the shale gas sector have resulted in a shift from fuel-based petrochemicals to shale gas-based raw materials in the past few years. Coal-based raw materials are also being used by China on a large scale with almost all the raw materials derived from coal. Shale gas and coal are becoming cheaper than the fuels that are currently in use, which will increase the profitability of manufacturers using these materials for PP production. Therefore, the lowering costs of these raw materials will play a crucial role in the production of PP, which will, consequently, fuel the demand for PP Catalyst.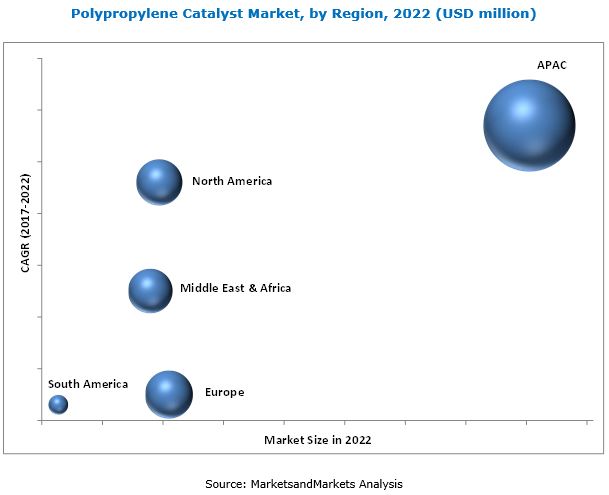 Why development of cost-effective and hazard-free catalysts with improved properties poses a major challenge?
Phthalate-based ZN catalysts are potentially harmful to the environment and, hence, regulated by REACH. In 2003, LyondellBasell first developed and commercialized 4, di-ether (PP with narrow molecular weight distribution and succinate (PP with broad MWD) fifth-generation, phthalate-free, ZN PP Catalyst that have improved properties than that of the previous phthalate generation. Phthalate-based systems can be considered as a family of multipurpose catalysts, whereas both di-ether and succinate-based systems are considered as specialty drop-in catalysts. However, the recent initiative undertaken by LyondellBasell to commercialize mixed di-ether/succinate catalysts has helped in launching a multi-purpose high-performance fifth-generation, phthalate-free catalyst line. Currently, most of the Ziegler-Natta PP. catalysts consumed are fourth-generation catalysts, and the consumption of fifth-generation catalysts using non-phthalate internal components are still limited. However, with the stringent regulations set by REACH and the increasing pressure from purchasers, ZN catalyst offerings from various suppliers are expected to include more phthalate-free catalysts in the short-medium term.
Ziegler-Natta catalyst type is projected to lead the market for polypropylene catalyst
Ziegler-Natta is the most commonly used catalyst type for the manufacture of polypropylene, globally. The Ziegler-Natta catalyst provides excellent morphology control during polymerization. This catalyst has been commercially proven in polypropylene production lines including the major bulk and gas phase process. The Ziegler-Natta catalyst has propelled the growth of the PP industry by enabling the inexpensive and easily controlled production of polypropylene. Today, more than half of the total polypropylene produced worldwide uses the Ziegler-Natta catalyst type.
The Asia Pacific market for polypropylene catalyst is projected to grow fastest
The
market for polypropylene catalyst in the Asia Pacific is projected to grow at the highest CAGR between 2017 and 2022. Increasing demand from end-use industries, such as chemical, automotive, packaging, optical, and medical. Increasing per capita expenditure on healthcare and food products, significant consumer base, rising urban population, low labor costs, and easy availability of raw materials are attracting international packaging, electronics, and automotive manufacturers to establish production facilities to the region, thus creating high demand for PP in these industries. Apart from this, growth in the construction industry in China, India, and Indonesia is expected to drive the demand for PP in the region, thereby propelling the growth of the PP catalyst market.
Speak to An Expert @ https://www.marketsandmarkets.com/speaktoanalystNew.asp?id=127854064