The report "Probiotic Ingredients Market by Application (Functional Foods & Beverages, Pharmaceuticals, and Animal Nutrition), Source (Bacteria and Yeast), Form (Dry and Liquid), End User (Human and Animal), and Region – Global Forecast to 2023″, is estimated at USD 268 million in 2018 and is projected to reach USD 402 million by 2023, growing at a CAGR of 8.5% during the forecast period. The market is driven by factors such as increasing popularity of probiotic dietary supplements and participation of government bodies in the R&D of probiotics.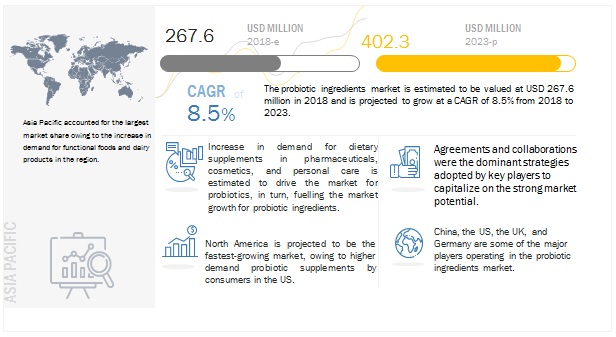 The global probiotic ingredients market is currently driven by the rising popularity of probiotic functional foods & beverages among consumers. Factors such as age, stress, and poor diet are responsible for digestive ailments, bloating, and reduced resistance to infections; and the consumption of probiotic-enhanced products help to alleviate these widespread conditions. These products contain live microorganisms (probiotic strains) that confer positive health effects on the host. Companies such as Chr. Hansen has developed patented strains of microorganisms claiming to have specific health benefits; there has been a proliferation of probiotic suppliers who develop customized strains of microorganisms to integrate with a diverse set of products.
By form, the market has been segmented into dry and liquid. The dry form is projected to dominate the market during the forecast period owing to lower costs in transportation when compared with liquid form. The dry form of probiotic ingredients has a higher shelf-life, due to which it is preferred by manufacturers and suppliers.
By end use, the probiotic ingredients market has been segmented into animal and human use. While human use accounts for a larger market share during the forecast period, the usage of probiotic strains in the animal nutrition industry is growing. Probiotic strains are used in feed to enhance the effectiveness of nutrients and show their effects on the gut by aiding in better digestion and reducing the impact of pathogenic bacteria, which causes various diseases in animals. The animals can grow better as the feed is altered in terms of quality and palatability due to its added probiotic content. The aim of probiotic strains is to take care of deficiencies of the natural microflora and provide animals with better resistance against diseases.
Speak to Analyst: https://www.marketsandmarkets.com/speaktoanalystNew.asp?id=238635114
By region, the Asia Pacific market accounted for the largest share of the probiotic ingredients market in 2017, followed by Europe. Some factors that influence these market shares include the high demand for functional foods and dairy products, the presence of major players in these regions, and awareness about the benefits of using probiotics. Top probiotic manufacturers, such as DowDuPont (US), Kerry (Republic of Ireland), Lallemand (US), and Chr. Hansen (Denmark) together account for more than one-third of the total market share. These companies have a strong presence in Europe and the Asia Pacific and have manufacturing facilities across these regions along with strong distribution networks.