Diesel Power Engine Market Overview –
The global diesel power engine market size is projected to reach USD 7.9 billion by 2025 from an estimated value of USD 6.3 billion in 2020, at a CAGR of 4.6% during the forecast period. Increased industrialization, rising standard of living, and demand for reliable back up power are the main drivers for the market. Moreover, increased investments in datacenters and commercial facilities is expected to further drive the demand for this product.
The diesel power engine market has promising growth potential due to several factors, including the increased industrialization, increased population, growing demand for reliable backup power supply, and rising disposable income in emerging economies. The rapid industrialization in Asia Pacific especially in China and Southeast Asia has increased the opportunity for diesel power engine market growth. The increased datacenter investments in Europe and North America are contributing to the growth of the market.
Download PDF Brochure – https://www.marketsandmarkets.com/pdfdownloadNew.asp?id=65999135
The standby segment is projected to be the largest growing segment by operation, of the diesel power engine market. The growth can be attributed to the increased industrialization in Asia Pacific especially in China and South East Asia. Asia Pacific which accounts for about two thirds of the global growth, especially in the manufacturing sector. The rising demand for emergency standby applications to support the manufacturing and industrial activities is expected to drive the growth in this segment.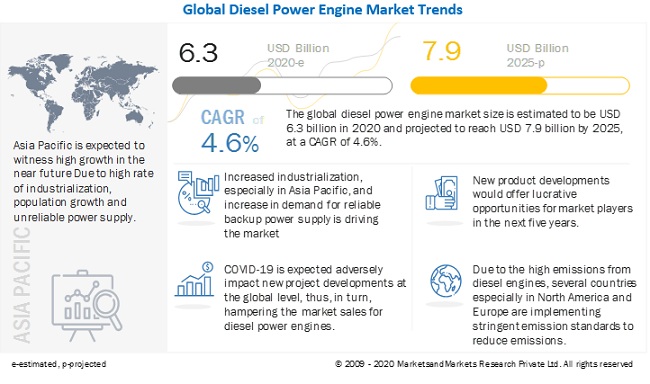 Commercial segment is projected to be the fastest-growing segment of the diesel power engine market, by end user type. The commercial sectors demand for diesel engine powered gensets arises out of the need for reliable backup power from critical load facilities such as hospitals, airports, and datacenters among others. Other commercial facilities such as offices, shopping complexes, and malls rely on back up power solutions for critical loads such as lighting, and heating, ventilation, and air conditioning. The increased investments in datacenters is one of the key drivers for growth in this segment. Datacenters is one of the few sectors which saw rise in investments even during the COVID-19 pandemic, key global players such as Alibaba, and Google have announced significant investments in datacenter. These factors are expected to contribute to the growth in this segment
Europe is estimated to be the largest growing market for diesel power engine. This region which houses many developed economies has seen the shift in growth from manufacturing, to services. In many industrialized nations such as Germany the growth is in large part driven by the shift towards service-based economies. This development contributes to increased investments in commercial sector and thereby in diesel power engines for backup power supply. Europe is also one of the leading regions attracting investments for datacenters. Due to introduction of regulations such as EU General Data Protection Regulation (GDPR) the demand for back datacenters is expected to grow. These developments are expected to drive the demand for diesel power engines in Europe.
Ask FREE Sample Pages – https://www.marketsandmarkets.com/requestsampleNew.asp?id=65999135
COVID-19 Impact on the Global Diesel Power Engine Market
The diesel power engine market includes major Tier I and II suppliers like Caterpillar, Cummins, Wartsila, Rolls Royce Holdings, and MAN SE. These suppliers have their manufacturing facilities spread across various countries across Asia Pacific, Europe, North America, Middle East & Africa, and South America. COVID-19 has impacted their businesses as well.
On April 2020, leading diesel power engine manufacturer Caterpillar announced its financial results. The company's first quarter revenue in 2020 witnessed a 21% decline compared to that of previous year's first quarter revenue. This was due to low end user demand and impact from changes in dealer inventories.
In April 2020, Rolls-Royce Holdings announced a reorganization of its business to address the medium-term impact of COVID-19. Under this reorganization, the company let go of 9000 personnel along with expenditure cuts on people, plants, and equipment. The company aims to save an annualized savings of GBP 1.3 billion through this reorganization.