The report "Smart Harvest Market by Site of Operation (On-field, Greenhouse, Indoor), Component (Harvesting Robots, Automation & Control Systems, Imaging Systems, Sensors, Software), Crop Type (Fruits and Vegetables), and Region – Global Forecast to 2023″ The smart harvest market is projected to reach USD 15.6 billion by 2023, from USD 9.0 billion in 2018, at a CAGR of 11.81% during the forecast period. The market is driven by factors such as growing farm labor issues due to higher costs and availability, and cost efficiency benefits offered by smart harvest systems.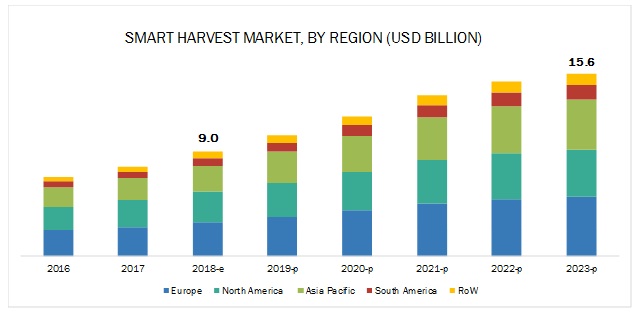 Report Objectives:
To describe and forecast the smart harvest market, in terms of component, site of operation, crop type, and region
To describe and forecast the smart harvest market, in terms of value, by region–Asia Pacific, Europe, North America, South America, and the Rest of the World-along with their respective countries
To provide detailed information regarding the major factors influencing market growth (drivers, restraints, opportunities, and challenges)
To strategically analyze micromarkets with respect to individual growth trends, prospects, and contributions to the overall market
To study the complete value chain of smart harvest
To analyze opportunities in the market for stakeholders by identifying the high-growth segments of the smart harvest ecosystem
To strategically profile key players and comprehensively analyze their market position in terms of core competencies, along with detailed competitive landscape for market leaders
To analyze strategic approaches such as product launches, agreements, and partnerships in the smart harvest market
Download PDF Brochure:
https://www.marketsandmarkets.com/pdfdownloadNew.asp?id=7445954
Declining farmlands to drive growth for indoor farming applications of smart harvest in the coming years
The smart harvest market is segmented on the basis of site of operation into on-field, greenhouses, and indoor farming. The market for on-field systems is projected to record the highest CAGR between 2018 and 2023. The development of smart harvest technologies and robots aims to minimize the impact of labor shortage, while also maximizing the benefits realized by the end users in the form of cost and time benefits. Declining farmlands in developing countries are expected to favor the growth for indoor systems during the next decade.
Improving hardware dexterity drives the growth for harvesting robot technologies in fruits during the forecast period
The harvesting robots market is segmented on the basis of crop type into vegetables and fruits. Manufacturers are developing and testing various harvesting robot technologies for commercial deployment during the forecast period. The current generation of smart harvest technologies is capable of harvesting a variety of fruits including apples, strawberries, and citrus fruits (lemons and oranges). The use of smart harvest systems expands the possibilities of integrating yield monitoring sensors and ripening controllers across a wide variety of fruits.
Speak to Analyst:
https://www.marketsandmarkets.com/speaktoanalystNew.asp?id=7445954
Europe is projected to account for the largest market share by 2023
The European smart harvest market is estimated to be the largest by 2023, while the Asia Pacific market is projected to grow as the fastest-growing region from 2018 to 2023. Europe and North America also host the largest concentration of manufacturers in the smart harvest industry, with major industry leaders maintaining their operations in the region. The strong agriculture sector in the region and increasing dependence on technology is expected to bolster prospects for the smart harvest market in the Asia Pacific region.
This report includes a study of the development strategies, along with the product portfolios of leading companies. It also includes the profiles of leading companies such as Robert Bosch GmbH (Germany), Deere & Company (US), Smart Harvest Ltd. (UK), Dogtooth Technologies (UK), Harvest Automation (US), Panasonic Corporation (Japan), Root AI (US), Abundant Robotics (US), Iron Ox (US), Agrobot (Spain), Energid Technologies Corp. (US), FFRobotics (Israel), Vision Robotics Corp. (US), Metomotion (Israel), AVL Motion (Netherlands), and Harvest Croo (US).
Recent Developments:
In September 2018, Energid Technologies Corporation (US) launched a new software development kit and framework version of its Actin software. The new Actin 5 software incorporates real-time monitoring, adjustments, and inputs for robots, in which it is installed. The Actin 5 software is designed to emulate dynamic functions and help robots respond to a wide array of scenarios such as navigation, control, monitoring, and other functions without compromising on the overall effectiveness.
In January 2018, Panasonic Corporation (Japan) unveiled a prototype of their new fully autonomous tomato-picking robot in Tokyo. The robot is incorporated with high-resolution cameras, sensors, and artificial intelligence features to identify and pick ripe tomatoes. The robot has undergone extensive development and testing sessions since 2013 before the launch of its prototype stage.