The snack pellets market is estimated to account for about USD 2.0 billion in 2018 and is projected to reach a value of about USD 2.5 billion by 2023, at a CAGR of 5.3%. The growth of the snack pellets market is driven by the rising demand for prepared and convenience food products. In addition to this, the growing focus on facility expansion, marketing schemes, and information exchange programs for creating awareness to enhance the consumption of snack pellets has contributed to the growth of the market.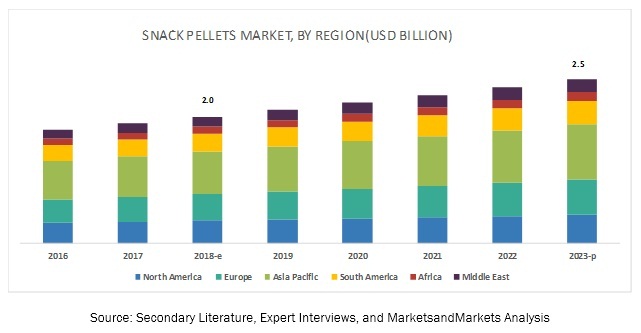 Rise in demand for prepared and convenience foods
The snack pellets market is primarily driven by the growth of the processed food industry. The changes in lifestyles and high disposable incomes of the population have led to an increased demand for ready-to-eat food products, as they help save time and efforts. In addition to this, the demand for processed food and an increase in the trend of snacking between meals are also fueling the demand for extruded food products. Children and young adults require fillers in between their meals. Snacks act as alternatives to such fillers and are hence widely preferred. Being easy to consume and buy, consumers are increasing their purchase of snacks. Hence, snack manufacturers are demanding more and varied snack pellets to increase their production and meet the rising demand of snack pellets.
The rise in per capita income and the trend of snacking between meals are fueling the demand for snack pellets. Consumer preferences in emerging economies such as China, India, Brazil, and the Middle East have gradually transitioned from traditional home-made breakfasts and snacking meals to ready-to-eat products over the last couple of decades.
Download PDF Brochure:
https://www.marketsandmarkets.com/pdfdownloadNew.asp?id=34540077
Government initiatives and investments to expand the processed and extruded food sectors
The demand for extruded snacks is expected to rise in emerging markets such as China, India, Brazil, and Russia, due to increasing consumer preference toward ready-to-eat food products. To tap these markets, snack manufacturers are increasing their production, due to which the requirement for food extruders is increasing in the region. Globally, the demand for extruded snacks is increasing. This is encouraging snack pellet manufacturers to expand and improve their production facilities. In Europe, high demand is witnessed for processed snack products. The European Snacks Association (ESA) has supported the markets for snacks and snack pellets by bringing together various stakeholders associated with the snacks industry. The association arranges various trade shows, conferences, and publishes technical insights for promoting trade by sharing knowledge. The ESA takes the responsibility to inform the members of the current and emerging trends of the association. Also, the North American Association of Food Equipment Manufacturers provides all the support in terms of technical expertise and other guidance to set up, expand, or upgrade businesses. Such initiatives by governments are helping snack pellet manufacturers to expand their business, hence creating an opportunity for the growth of the snack pellet market.
North America is projected to account for the largest market size during the forecast period.
The market is also segmented, on the basis of region, into North America, Europe, Asia Pacific, South America, Africa, and the Middle East. North America is projected to dominate the snack pellets market throughout the forecast period. Due to the abundant availability of raw materials and the presence of a strong food processing industry, North America holds the largest share of the snack pellets market, in terms of both volume and value. Additionally, snacks made from potato are highly preferred by consumers. These factors are responsible for the largest share of potato-based snack pellets in the region.
The key players identified in this market include Limagrain Céréales Ingrédients (France), Liven S.A. (Spain), Grupo Michel (Mexico), Leng d'Or S.A. (Spain), Pellsnack-Products GmbH (Germany), J. R. Short Milling (US), Pasta Foods Ltd (UK), Noble Agro Food Products Ltd (India), Bach Snacks s.a.l. (Lebanon), Mafin Spa (Italy), Le Caselle S.p.A. (Italy), and Van Marcke Foods (the Netherlands). These players are focusing on increasing their presence through undertaking acquisitions and expansions and developing products specific to consumer tastes and preferences in these regions. These companies have a strong presence in Europe and North America. They have also set up manufacturing facilities in various regions and have strong distribution networks.  
To speak to our analyst for a discussion on the above findings, click Speak to Analyst