The soil stabilization market is projected to reach USD 27.80 Billion by 2022, from USD 22.09 Billion in 2017, growing at a CAGR of 4.70%. Rapid urbanization and improved quality & properties of soil stabilization materials are some of the major factors that are expected to drive the demand for soil stabilization.

South America is projected to be the fastest-growing region in the global market during the forecast period, owing to the increase in the usage of soil stabilization in the agricultural as well as industrial sector. The soil stabilization market in South America is in its emerging phase and is experiencing rapid growth. Brazil and Argentina are focused on industrial and agricultural sectors due to the emphasis on transportation and production of crops for export in the global market.
The regional market players for soil stabilization is also focused on the reduction of dust control and soil erosion, as it helps to minimize wastage of crop and improve crop yield to meet consumer demand in the international market.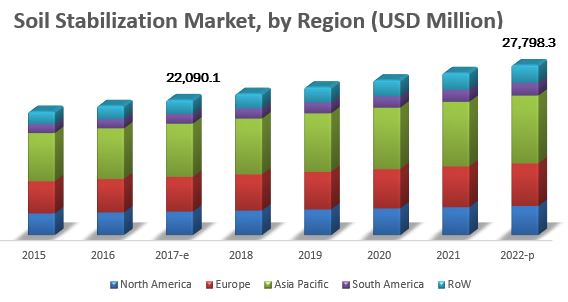 Asia Pacific is estimated to account for the largest share in the global soil stabilization market, in terms of value, in 2016, owing to increasing awareness about soil management practices. With rapid urbanization, the use of soil stabilization has increased; thus, it contributed to the growth in awareness about improved quality and properties of soil stabilization additives.
The focus of manufacturers on investments to purchase soil stabilization machines is another factor contributing to the growth of this market in the Asia Pacific region. The continuous modernization of various additives/stabilizing agents and stabilization machines by the manufacturers in the Asia Pacific region presents several opportunities for the soil stabilization industry. This has also increased the demand for infrastructural development among the industrial and non-agricultural sectors in the region, and further provides opportunities for soil stabilization machine manufacturers in the region.

The key players in global soil stabilization market include Caterpillar (US), AB VOLVO (Sweden), FAYAT (France), WIRTGEN GROUP (Germany), CARMEUSE (US), Global Road Technology (Australia), Soilworks (US), Graymont (Canada), SNF Holding (US), Aggrebind (US), IRRIDAN USA (US), and Altacrete (Canada).