The global specialty fertilizers market is estimated to be valued at USD 36.1 billion in 2019 and is projected to reach USD 52.4 billion by 2025, recording a CAGR of 6.4%. The specialty fertilizers market has high growth potential in emerging markets, such as Asia Pacific and South America, as these fertilizers have the potential to increase the efficiency of the nutrients applied, are cost-effective, and generally result in higher crop yields. Specialty fertilizers are usually used in high-value crops that require certain nutrient qualities (such as chlorine-sensitive crops) or in situations where prolonged nutrient availability with fewer application rounds is important for good crop quality or yield. These fertilizers are typically applied through fert-irrigation and foliar applications.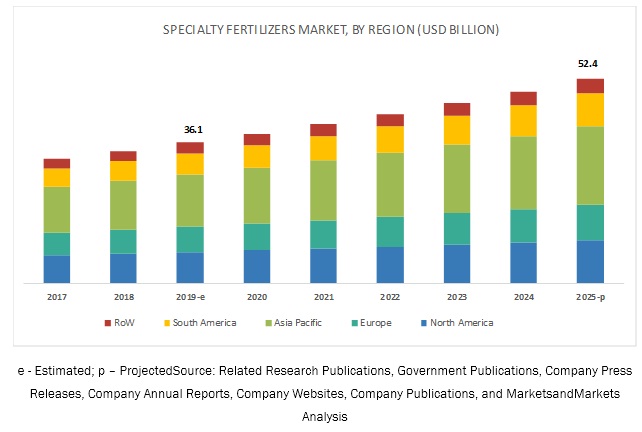 Key players in the liquid fertilizers market include Nutrien, Ltd. (Canada), Yara International ASA (Norway), Israel Chemical Ltd. (Israel), K+S Aktiengesellschaft (Germany), and Sociedad Química Y Minera De Chile (SQM) (Chile), The Mosaic Company (US), EuroChem Group (Switzerland), CF Industries and Holdings, Inc. (US), and Nufarm (Australia). Product innovations, expansions, mergers & acquisitions, agreements, collaborations, and partnerships were some of the core strengths of the leading players in the liquid fertilizers market. These strategies were adopted by the key players to increase their market presence. It also helped them diversify their businesses geographically, strengthen their distribution networks, and enhance their product portfolios. Some of the other leading players in the liquid fertilizers market include OCP Group (Morocco), OCI Nitrogen (Netherlands), Coromandel International Limited (India), Deepak Fertilizers and Petrochemicals Corporation Limited (India), Kugler (US), Haifa Group (Israel), COMPO Expert GmbH (Germany), Brandt (US), Wilbur-Ellis (US), AgroLiquid (US), and Plant Food Company, Inc. (US).
Nutrien Ltd. (Canada) has the largest crop nutrient product portfolio, which is combined with a global retail distribution network that includes more than 1,500 farm retail centers. The company is a leading manufacturer and distributes over 27 million tonnes (29.76 million tons) of nitrogen, potassium, and phosphate products for industrial, agricultural, and feed customers worldwide. The company has a wide-ranging agricultural retail network that provides services to over 500,000 grower accounts. The company has a network of nearly 1,700 retail locations in seven countries, along with operations and investments in 14 countries, globally. The company has its presence in North America, South America, Europe, Asia, Africa, and Australia.  
Download PDF Brochure:
https://www.marketsandmarkets.com/pdfdownloadNew.asp?id=57479139
Yara International ASA (Norway) is one of the largest fertilizer manufacturing companies in the world. The company is primarily engaged in producing and distributing mineral fertilizers and environmental solutions. It manages its business primarily through three business segments, namely, downstream, industrial, and upstream. The company offers its liquid fertilizer products through its product portfolio; the products are available in potassium, phosphorus, and sulfate forms. The company offers fertilizer brands, such as YaraBela, YaraLiva, YaraMila, YaraTera, YaraVera, and YaraVita. The company offers a complete fertilizer portfolio to growers, globally, under its downstream segment, and also offers ammonia, urea, nitrates, and other nitrogen-based fertilizer products under its upstream business segment. The company offers fertilizers of various nutrients, such as nitrogen, phosphorus, potassium, calcium, and magnesium.
South America is projected to grow at the highest CAGR during the forecast period.
The market for specialty fertilizers in the South America region is projected to grow at the highest CAGR from 2019 to 2025. According to FAOSTAT, Brazil is the largest producer of agricultural products due to the availability of abundant land and rural labor force, followed by Argentina. The growth in South America is majorly attributed to the increase in the adoption of agrochemicals and advancements in farming techniques in Brazil and Argentina with distribution channels established by global agrochemical players. Due to these factors, the market in the South America region is projected to record the highest growth from 2019 to 2025.
Speak to Analyst:
https://www.marketsandmarkets.com/speaktoanalystNew.asp?id=57479139
Recent Developments:
In September 2019, Nutrien, Ltd. acquired Ruralco Holdings Limited (Ruralco) in Australia. Through this acquisition, Nutrien would be able to provide significant benefits to its stakeholders, as well as enhance the delivery of its products and services to the Australian farmers.
In June 2019, EuroChem Group expanded its fertilizer production facility by opening a third new fertilizer blending plant in Brazil. This production center was a new 27,000 m2 facility at Araguari in Minas Gerais, which was another step in the continued expansion of EuroChem's subsidiary, Fertilizantes Tocantins (FTO). It is a major fertilizer distribution business in Brazil.
In February 2018, Haifa Group expanded its presence in China by opening a subsidiary named Haifa Beijing Trading Company in China. This subsidiary would significantly help in expanding its offerings to the developing Chinese agricultural sector by providing the best plant nutrition solutions for the benefits of the Chinese growers.
In March 2019, Yara International ASA launched Yaralix, a tool for precision farming, allowing the farmers to measure crop nitrogen requirements using their smartphones. The system consisted of a free-to-download-app that was designed to use the smartphone camera to determine nitrogen requirements for different crops in the early growth stages.
In May 2018, Yara International ASA acquired Vale Cubatão Fertilizantes (Brazil), which has strengthened the company's position in terms of Brazil's nitrogen production assets, along with the fertilizer and industrial sectors in the region.