The global synthetic biology market is projected to reach USD 8.84 Billion by 2022 from USD 3.57 Billion in 2017, at a CAGR of 19.9%. This high growth rate can be attributed to the wide range of applications of synthetic biology, rising R&D funding and initiatives, increasing demand for synthetic genes and synthetic cells, and increasing investments in synthetic biology companies. Factors such as rising concerns regarding fuel consumption and increasing demand for protein therapeutics are expected to offer lucrative opportunities for players in the global market.
By technology, the synthetic biology market is segmented into gene synthesis, genome engineering, cloning and sequencing, next-generation sequencing, site-directed mutagenesis, measurement and modeling, microfluidics, and nanotechnology. In 2017, the gene synthesis segment is expected to account for the largest share of the global market in technology. This is attributed to the fact that the technology is used in a wide range of applications such as producing vaccines, engineering enzymes to restrict cancer growth, producing sustainable biofuels, improving crop yield, and detecting and breaking down environmental pollutants in the soil, air, and water offered by gene synthesis.
The synthetic biology market is segmented into medical (pharmaceutical, drug discovery & therapeutics, and artificial tissue and tissue regeneration), industrial (biofuel & renewable energy, industrial enzymes, and biomaterials & green chemicals), food & agriculture, and environmental (bioremediation and biosensing) on the basis of application. The pharmaceuticals subsegment is expected to account for the largest share of the market. However, biofuel and renewable energy is expected to grow at the highest CAGR during the forecast period owing to the global demand for fossil fuel alternatives and the advantages of the genetically engineered organisms for the synthetic production of biofuels.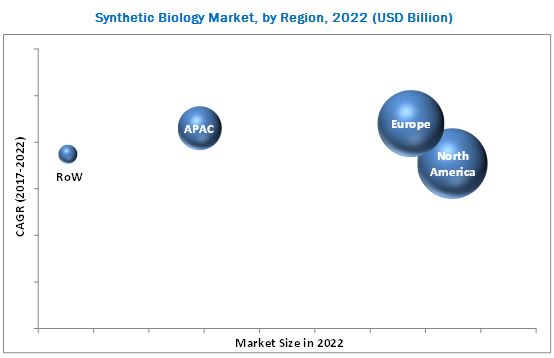 Based on region, the synthetic biology market is segmented into North America, Europe, Asia Pacific, and the Rest of the World (RoW). In 2017, North America is estimated to account for the largest share of the global market. Regarding growth rate, Europe is expected to register the highest growth rate from 2017 to 2022. Factors such as increasing investments for the adoption of adoption of novel synthetic biology technologies, rising R&D funding and collaborations are driving the growth of the market in this region.
While the overall market is expected to grow at a high rate, possible environmental and security issues related to synthetic biology is likely to restrain the growth of this market to a certain extent.
To get Free Sample: https://www.marketsandmarkets.com/requestsample.asp?id=889
The major players in the global synthetic biology market include Thermo Fisher (US), Novozymes (Denmark), Merck KGaA (Germany), Intrexon (US), and Agilent Technologies (US), among others.
Contact:
Mr. Shelly Singh
MarketsandMarkets™ INC.
630 Dundee Road
Suite 430
Northbrook, IL 60062
USA : 1-888-600-6441
newsletter@marketsandmarkets.com