The track geometry measurement system (TGMS) market is expected to be valued at USD 2.8 billion in 2019 and is likely to reach USD 3.7 billion by 2024, at a CAGR of 6.00% during the forecast period. The use of track geometry measurement systems by the companies operating in the railway industry for complying with various standards and regulations is among the key factors driving the TGMS market. Moreover, the high popularity of no contact track geometry measurement system is another factor boosting the growth of TGMS market.
The market for vertical profile measurement type is expected to witness significant growth during the forecast period. Vertical profile is the track layout on the vertical plane. It is defined as the average height of left and right rails, which is calculated from the mid-point of these rails. The track class and permissible vehicle speed limit are determined by the railroad administration bodies by using these parameters as these are crucial for the operational efficiency of a rail.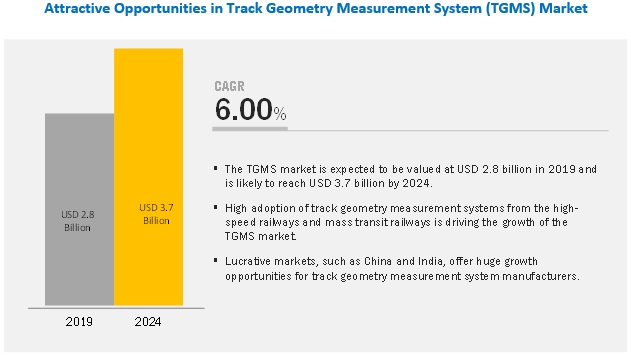 Download PDF Brochure:
https://www.marketsandmarkets.com/pdfdownloadNew.asp?id=31376329
The market for no contact operation type is expected to grow at a high rate during the forecast period. The major benefit of this operation type is that it is suitable for high and low speed. Also, it ensures high accuracy with the help of advanced technologies such as imaging technologies and optical laser sensors. Therefore, this type of operation method is gaining popularity for track geometry measurement.
Among all railway types, the TGMS market for high-speed railways is expected to grow at the highest rate from 2019 to 2024. High-speed railway projects have been progressing rapidly worldwide for the past few years, creating opportunities for the TGMS market. Europe and APAC are the major regions generating demand in the TGMS market for high-speed railways.
The software segment of the TGMS market is expected to grow at a high rate during 2019–2024. Raw data extracted from hardware components are collected, processed, and analyzed using software. The software solutions are mostly in-built in hardware systems; these solutions can also be purchased separately and then integrated into the hardware. With the help of various software, railway companies/operators are able to measure track geometry quickly and precisely, and later view and analyze to find faults, if any.
Among all regions, the TGMS market in APAC is expected to grow at the highest rate during the forecast period. This growth is attributed to the high economic growth witnessed by major developing economies in the region. Key countries in APAC include China, Japan, Australia, and India. The key players are grabbing opportunities by expanding their global reach and launching new products.
Browse 65 market data Tables and 45 Figures spread through 143 Pages and in-depth TOC on "Track Geometry Measurement System Market – Global Forecast to 2024"
https://www.marketsandmarkets.com/PressReleases/track-geometry-measurement-system.asp