The beverage flavoring systems market is projected to grow from USD 3.8 billion in 2018 to USD 5.2 billion by 2023, at a compound annual growth rate (CAGR) of 6.1% during the forecast period.
The launch of advanced technologies in flavor processing, the increasing consumer inclination toward clean-label and organic products, and the favorable regulatory environment for fortified products are the factors projected to drive the market for beverage flavoring systems.  
Asia Pacific is projected to account for the largest market share during the forecast period. The region is an emerging market, with investments from several multinational manufacturers, especially in countries such as China, India, and Japan; these are the major markets in the region.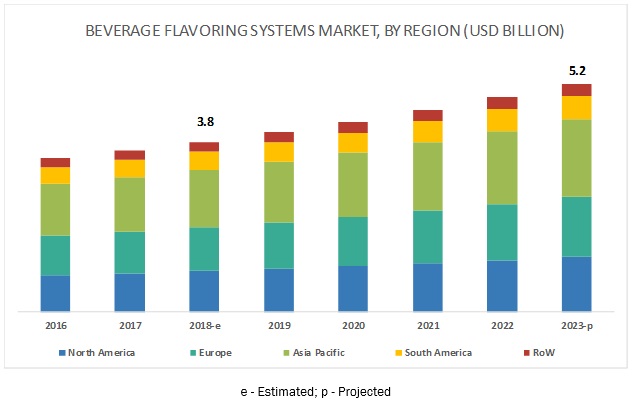 Emerging economies and the growing carbonated soft drinks market have been driving the growth of the beverage flavoring systems market in this region. The Asia Pacific region is a growing market for carbonated soft drinks. According to the World Economic Forum, from 2015 onward, China and India have been growing in terms of consumption of carbonated soft drinks.
The key players in the beverage flavoring systems market are Cargill(US), Archer Daniels Midland Company (ADM) (US), Givaudan (Switzerland), Sensient Technologies (US), Kerry (Ireland), International Flavors and Fragrances (IFF) (US), Firmenich (Switzerland), Tate & Lyle (UK), MANE (France), Döhler (Germany), Takasago (Japan), Flavorchem Corporation (US), and Frutarom (Israel).
These companies are focusing on new service & technology launches as well as acquiring the leading market position through the provision of a broad portfolio, catering to the varied requirements of the market, along with a focus on the diverse end-user segments.