The global irrigation controllers market is estimated to be valued at USD 529.2 million in 2017 and is projected to grow at a CAGR of 17.53% from 2017 to 2022. Strategic acquisitions and organic expansions were the core strengths of the leading players in the irrigation controllers market; these strategies were adopted by the players to increase their market presence. They also helped the players diversify their businesses geographically, strengthen distribution networks, and enhance their production capacities.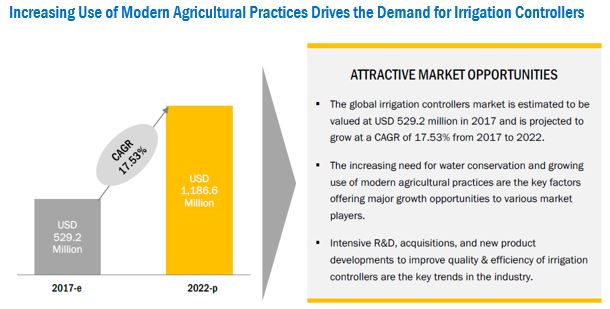 Browse 93 market data Tables and 41 Figures spread through 135 Pages and in-depth TOC on "Irrigation Controllers Market – Global Forecast to 2022"
Based on irrigation type, the market is segmented into smart controllers, tap times, and basic controllers. Currently, the irrigation controllers market is gaining momentum due to increased demand for smart irrigation controllers in Asia Pacific and South America as a result of the growing awareness of water conservation and increasing technological developments.
Browse In-depth Insights: https://www.marketsandmarkets.com/Market-Reports/irrigation-controller-market-185648236.html
The irrigation controller market, on the basis of application, is segmented into non-agriculture and agriculture. Non-agriculture is further segmented into sports grounds/golf courses, residential, and others which include pastures, parks, school or university campuses, industrial commercial buildings, and cemeteries. The increasing number of golf courses and sports grounds globally are driving the irrigation controllers market. In agriculture, an increasing number of greenhouses drive the market for irrigation controllers globally. The use of irrigation controllers in residential lawns and gardens is also responsible for driving the irrigation controllers market.
The irrigation controller market, by irrigation type, is further segmented into drip/trickle and sprinkler. Drip/trickle irrigation is used for the surface as well as sub-surface irrigation. Increasing awareness of water conservation is driving the market for drip/trickle irrigation, which, in turn, drives the demand for irrigation controllers.
North America accounted for the largest share of the global market in 2016. The Asia Pacific market is projected to grow at the highest CAGR in terms of value from 2017 to 2022. China accounted for the largest country-wise market share in the Asia Pacific irrigation controllers market in 2016, followed by Australia & New Zealand. The shift from flood irrigation to mechanized irrigation in countries such as India and China drives the irrigation controllers market in the region. Advancements in communication technologies for irrigation acts as an opportunity for global and domestic players.
The global market for irrigation controllers is dominated by large players such as Valmont Industries (US), Lindsay Corporation (US), Toro (US), Hunter Industries (US), and Rain Bird (US). HydroPoint Data Systems (US), Netafim (Israel), Calsense (US), Glacon (Israel), Rachio (US), Weathermatic (US), Green IQ (Israel), and Nelson Irrigation (US) are a few other key market players that also have a significant share in the irrigation controllers market.
Valmont Industries (US): One of the leading companies in the irrigation controllers industry. The company develops control panels to be used along with irrigation controllers. The controllers manufactured by the company are smart controllers which can be remotely operated using Wi-Fi and Bluetooth connectivity.
Hunter Industries (US): A leading company in the irrigation controllers market; it is engaged in the manufacturing and marketing of a broad range of irrigation solutions for residential, golf course, sports turf, and residential applications. Hunter Industries works in close cooperation with its customers and farmers to meet the requirements of irrigation controllers to minimize water consumption in non-agricultural applications.
Scope of the irrigation controllers market Report:
This research report categorizes the irrigation controllers market based on type, product, application, irrigation type, and region.
Based on Type the Irrigation Controllers Industry
Weather-based
Sensor-based
Based on Product, the Irrigation Controllers Industry
Smart controllers
Tap timers
Basic controllers
Based on Region, the Irrigation Controllers Industry
North America
Europe
Asia Pacific
South America
RoW