The report "Soil Conditioners Market by Type (Natural, Synthetic), Solubility (Water-soluble, Hydrogels), Application (Agricultural, Industrial), Crop Type (Cereals & Grains, Oilseeds & Pulses, and Fruits & Vegetables), Soil Type, and Region – Global Forecast to 2022″, The soil conditioners market was valued at USD 4.90 Billion in 2016 and is projected to be valued at USD 7.83 Billion by 2022 with a CAGR of 8.16%.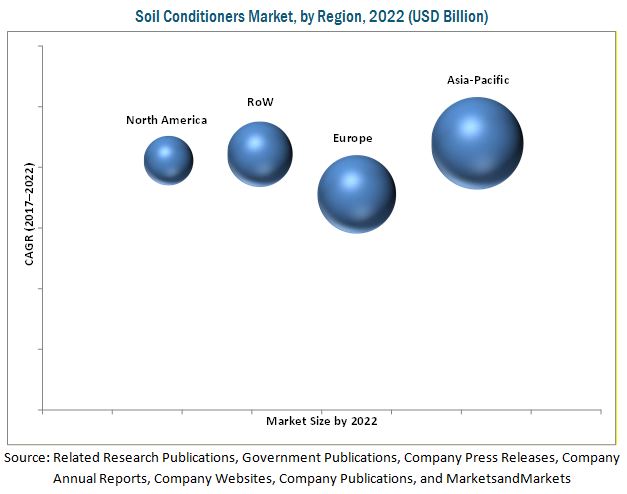 Based on type, the global market is segmented into natural and synthetic. The market is estimated to be led by the natural segment, followed by the synthetic segment, in terms of value in 2017. In terms of volume, the global market was led by the synthetic segment in 2017. Soil conditioners products are used as a soil amendment to alleviate its poor properties and to increase its productivity.
Download PDF Brochure:
https://www.marketsandmarkets.com/pdfdownloadNew.asp?id=171774013
On the basis of application, soil conditioners market is segmented into agricultural and industrial applications. The demand for soil conditioners is forecasted to increase in the next few years due to increasing awareness about soil management practices, to have better yield of crops. The oilseeds & pulses segment accounted for the largest market share in 2016.
Based on solubility, soil conditioners may be water-soluble or hydrogels. In terms of value, the market is estimated to be led by the water-soluble segment during the projected period. Moreover, the water-soluble segment dominated the market in 2017 in terms of volume.
Speak to Analyst:
https://www.marketsandmarkets.com/speaktoanalystNew.asp?id=171774013
The Asia Pacific region dominated the market and accounted for the largest share, in terms of both value and volume, in the global market, in 2016. Factors such as large population, vast agricultural land, wide acceptance of agricultural technologies and soil with poorly developed layers in countries of the Asia Pacific region are driving the growth of the soil conditioners market.
Target Audience:
Soil amendments & agrochemicals manufacturers
Agrochemicals importers and exporters
Agrochemicals traders, distributors, and suppliers
Polymeric materials producers & suppliers
Consumers (including farmers)
Government and research organizations
Legislative and regulatory bodies
Associations and industry bodies