The report "Vector Control Market by Vector Type (Insects and Rodents), End-use Sector (Commercial & Industrial and Residential), Method of Control (Chemical, Physical & Mechanical, and Biological), and Region – Global Forecast to 2023″, The vector control market is projected to grow at a CAGR of 5.13% from an estimated value of USD 15.86 Billion in 2018, to reach USD 20.37 Billion by 2023. The market is driven by factors such as rising prevalence of vector-borne diseases worldwide, rising awareness for vector control methods by renowned organizations such as the WHO, and the high efficiency of chemical-based vector control products.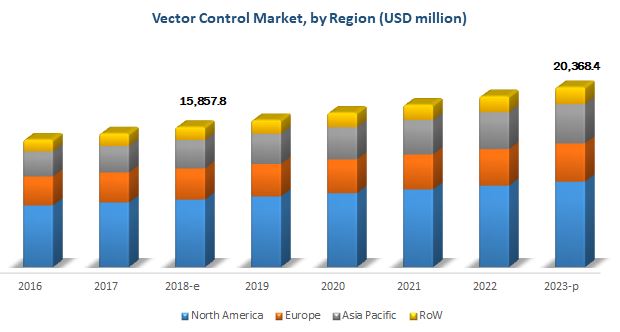 The objectives of the report:
Determining and projecting the size of the vector control market with respect to vector type, end-use sector, method of control, and regional markets over the period ranging from 2018 to 2023
Identifying attractive opportunities in the market by determining the largest and fastest-growing markets across regions
Identifying drivers and restraints impacting the global market for vector control
Download PDF Brochure:
https://www.marketsandmarkets.com/pdfdownloadNew.asp?id=265146798
The chemical segment, by method of control, was the largest in the vector control market in 2017.
The chemical-based method of control was observed to be the most preferred method, particularly in the North American region as it is highly effective in eliminating disease-causing harmful pests. Chemicals such as Pyrethroids and Fipronil have been widely used to control and eliminate disease-causing adult mosquitoes and larvae of such harmful mosquitoes. This market has witnessed an increased demand from endemic countries such as Tanzania, Uganda, Mozambique, and certain Asian countries such as India, China, and Indonesia.
Rodents, by vector type, is projected to witness the highest growth rate over the next five years.
The rodent control segment is projected to grow at the highest rate during the forecast period owing to the increasing initiative programs by public health authorities to control global outbreaks of lethal diseases such as Hantavirus and Hemorrhagic fever with renal syndrome (HFRS). This is followed by the insect control segment owing to the high demand of mosquito control solutions in the North American and Asia Pacific regions.
Request for Customization:
https://www.marketsandmarkets.com/requestCustomizationNew.asp?id=265146798
Significant market potential is witnessed in emerging Asian countries.
The vector control market has a high potential in emerging markets such as China and India since the climatic conditions and ineffective waste management in the Asia Pacific region are conducive to insect and rodent growth. There is also an increase in the middle-class population, who are aware of vector-borne diseases leading to the growing demand for vector control products for vectors such as mosquitoes and rodents.
This report includes a study of marketing and development strategies, along with the product and/or service portfolios of leading companies. Key companies in the market include vector control product manufacturers and service providers such as Bayer AG (Germany), Syngenta AG (Switzerland), BASF SE (Germany), Bell Laboratories, Inc. (US), Rentokil Initial plc (UK), FMC Corporation (US), Ecolab (US), The Terminix International Company LP (US), Rollins, Inc. (US), Arrow Exterminators, Inc. (US), Massey Services Inc. (US), and Anticimex Group (Sweden).